Choosing the perfect engagement ring is a daunting prospect. Here we will offer some tips on how to make the process as stress free as possible.
The ring should be the ideal choice for both of you, however, it's a little more important that it is the perfect choice for the one who will wear it.
How to Figure Out What Your Partner Will Want
You may think you know your partner's style. However, when considering the ring she will fall in love with, spending some extra effort observing how she dresses will pay dividends. How she chooses the clothes she wears and what she wears them with. The watch she wears. The jewelry she chooses to accessorize particular outfits, both every day and for special occasions.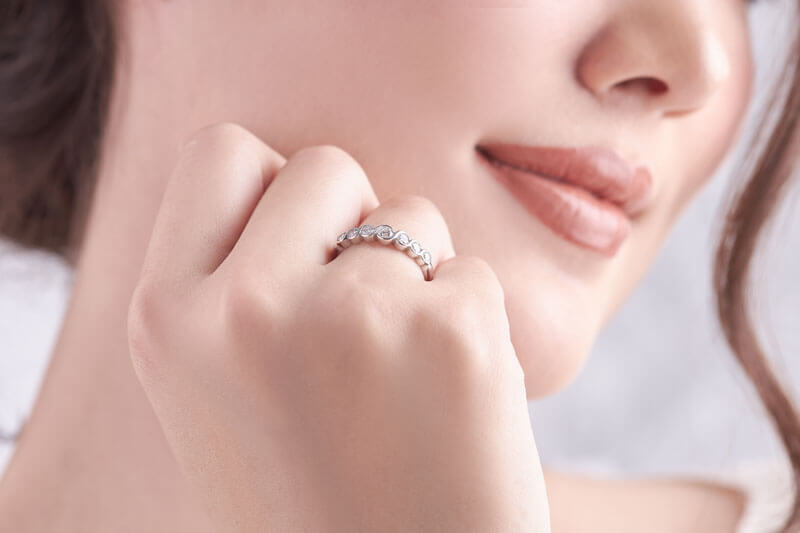 Pay Attention to Their Wardrobe and Accessories
If your partner tends to prefer plain colored fabrics in neutral tones, simple jewelry like single-pendent necklaces, unembellished bracelets, functional rather than extravagant pieces, and a watch with a plain metal or leather strap with little decoration on the dial, then a simple, solitaire diamond ring with a classic round brilliant diamond shape is likely to be preferable.
If your significant other has a wardrobe of modern, up-to-the-minute designs with a geometrical cut and striking base colors and who wears contemporary jewelry and accessories with eclectic, detailed designs, they may prefer fancier diamond cuts. Try asking the jeweler for unique-looking distinctive ring designs. A partner who prefers modern designs will appreciate something outstanding.
A partner with a wardrobe consisting of light, flowing, colorful dresses with lace and chiffon who chooses traditionally feminine jewelry and accessories such as flowery dangly earrings, highly detailed bracelets and necklaces with pretty patterns, an engagement ring with lots of tiny details is the one to choose. Ask to see a selection of rings with multiple diamonds and other stones as decoration. Rows or halos of stones are a great choice for a partner who adores looking sweet.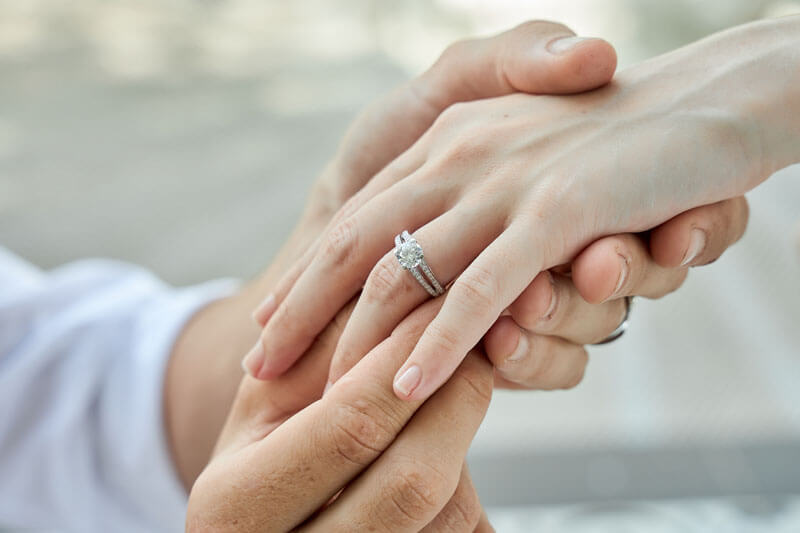 Don't Forget Your Partner's Interests
But your loved one's look isn't the only clue to the style of engagement ring she will treasure forever. What are their interests? What books do they read? What are their favorite movies? Artists? Poets? Musicians? An engagement ring is a fantasy, and long gone are the days when it has to conform to tradition. A heavy metal aficionado might find a diamond in a skull ring adorable. Your partner may have always cherished a ring she saw a favorite actor wearing in a movie. Your other half might hanker after a ring seen in a gallery or a museum. You cannot do too much research when deciding on the perfect engagement ring.
How Will Your Partner Wear Their Ring
Another important thing to know before visiting the jeweler is how and when your partner intends to wear the ring. Many will never want to take it off again after they say "Yes!" and you slip it onto their finger. However, it is worth considering their work life. Those who do a job with their hands may prefer something more durable, or a ring they can take on and off or perhaps wear on a chain around their neck. Others may want to keep the ring safe and only show it off on special occasions. These are all conversations you should have with each other as well as with the jeweler who will be able to give you advice.
And Finally…
Although you may want the engagement to be a surprise, the sure-fire way to choose the perfect engagement ring is to bite the bullet and ask your loved one what sort of jewelry they would like to wear to celebrate the occasion. Try booking an appointment with a jeweler for just after the big moment where you can both choose the perfect band to go on her finger.
I you do decide to choose a ring ahead of the proposal, don't worry. If it needs to be modified or changed any jeweler worth their salt will have no problem agreeing that you will be able to do so.
Alternatively
Why not take some of the pressure off choosing the perfect ring for your proposal? A great way to retain the element of surprise when you pop the question is to buy a promise ring (sometimes called a proposal or token engagement ring). This is a simple ring you can have in the box she will open and place on her finger until you both go to the jewelers to choose the perfect engagement band. As you get down on one knee say something like: "This is a symbol of my love for you and something you can wear until we change it for the ring you wish to wear for the rest of your life". It doesn't need to be anything fancy, and you could also make your special moment a bit more lighthearted by having something in the box that will make you both giggle. Promise rings have become popular in recent years and are a great way to show that you want the final choice for the perfect engagement ring not to be rushed and something you will both be involved with.